Christmas Promotional Gift Guide
Christmas cookies and holiday hearts…That's the way the season starts!

What comes to mind when you think of Christmas? Is it food, drink, parties, presents or simply spending time with your loved ones? Whatever the reason, we all love that special time of year. Read on for some festive facts, tips about how to get into the festive spirit at work, as well as an edit of our top 5 Christmas promotional gift ideas for this year!
Facts About the Festive Season
US scientists calculated that Santa would have to visit 822 homes a second to deliver all the world's presents on Christmas Eve, travelling at 650 miles a second! *

Did you know that robins on cards were a joke 150 years ago when postmen wore red tunics and were named after them? *

The chances of a white Christmas are just 1 in 10 for England and Wales, and 1 in 6 for Scotland and Northern Ireland – I don't know about you, but we are always dreaming of a white Christmas! *

What is the key to a great Christmas dinner? The turkey! Last Christmas saw the UK consuming approximately 10 million turkeys! *

Before turkey, the traditional Christmas meal in England was a pig's head and mustard – we're guessing everyone just got BOARed of pig *

It is estimated that UK households spend £22bn at Christmas, with the average household spending almost £800. A whopping £159 is thought to go on food and drink and the rest on gifts cards, trees and decorations. *
* Mirror.co.uk 2016
* ONS.gov.uk 2016
Top Tips of How to get into the Christmas Spirit at Work:
Set aside an hour of the day to put up a Christmas tree (even if it is a small, artificial one) and some decorations around the office. This is a fun team building activity as well as a great way to start feeling festive in the lead up to Christmas.

Swap the cups of tea for hot chocolate instead as a winter warmer in the office on cold days!

Get creative with 'Secret Santa' and instead of scraping for those pennies (we've all been there), make homemade gifts for colleagues, as a cheaper and more imaginative alternative.

Put on some cheesy Christmas tunes in the office, and sing your heart out. Ok, maybe only do this on Fridays…

Everyone in the office should have an advent calendar! A small amount of chocolate is a great 'pick-me-up' when at work.
Top 5 Promotional Christmas Gift Ideas:
1. Corporate Christmas Crackers
Go on, pull a cracker this Christmas with these great promotional branded crackers!

Printed with a full colour overprint to maximise your companies logo.

You can supply your own design and we will make the crackers for you.

Bespoke branded crackers are ideal for large events and Christmas parties.

Promote your company brand and impress your clients by putting a personalised cracker on the table in front of each individual.

There is the option to supply your own merchandise or "new product launch" inside a cracker.

Add a sparkle and a smile to your clients' face - it's easier to remember a brand this way.
2. Promotional Santa Hats
Everyone has to look silly over Christmas, so why not look silly with these fun branded Santa hats.

These promotional Father Christmas hats make a great surprise to put on a place setting at your company's Christmas lunch, just in case anyone has one too many sherbets and forgets who they are.

They can be printed on the white hem with individual names or just with your company's logo.
3. Christmas Hug In A Mug!
Hands up who likes hugs (me) and chocolate (me)! Then check out these great branded promotional hot chocolate pouches.

Why not impress your clients with a winter warming hot chocolate, complete with mini marshmallows??

Your company logo can be printed with a full colour sticker on front of the pouch to give maximum effect.

With a minimum order quantity of just 50 units and lead time of 2 – 5 days from artwork approval, your clients will be hugging you on receipt of these nifty gifts.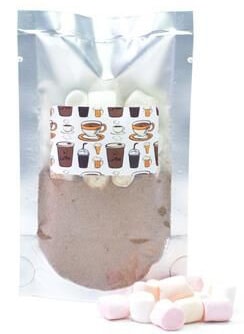 4. Grow Your Own Christmas Tree
O Christmas tree, o Christmas tree, how lovely are thy branches! We can hear you saying to yourself "if only I could grow my very own Christmas tree", well now you can with these mini tube growing kits.

The mini tube growing kit (Christmas tree) measures 150 x 50.8mm cardboard tube.

The outer tube comes with a Christmas themed design and personalised with 4-colour digital print from artwork supplied to a maximum print area of 150 x 50mm.

The kit contains a 45mm plastic flower pot, a Cocopress® compost tablet and a packet of Norway spruce seeds. This kit also includes a personalised greetings card containing sowing instructions.

The lead-time for this product is approximately 3 weeks from artwork approval – so get your orders in now before the Christmas rush!

Take a look at some of the other great grow your own products we can offer.
Here is how the magic happens - Growing Instructions:
Place your compost pad into a suitable vessel and add approx. 30ml of warm water and watch it expand

Place your pot on one of the end caps from your tube, using it as a saucer.

Fill your pot almost to the top with compost and place 2/3 seeds on the surface.

Lightly cover the seeds with more compost and firm down.

Place in a warm, light position and keep well-watered until the seedlings appear.

When the seedlings are large enough to handle they can be transplanted into larger pots.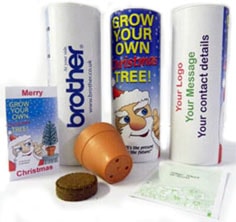 You can tell it is Christmas when a second chocolate item makes the Premier Promotional Products top 5. Whether you have children or not, everyone needs an advent calendar at Christmas to bring out the kid in us!

A handy promotional desktop advent calendar complete with pop out stand, with 24 windows filled with 50g of Christmas shaped milk chocolates.

These can be printed on all 6 sides, either select from a range of 'off the shelf'' designs that can be personalised with your company name, logo and individual message or provide your own individual artwork for a fully bespoke design.
Like what you see and want to see more? Please click to view our whole Christmas range.