Top 20 Promotional Christmas Gifts
Christmas cookies and holiday hearts… That's the way the season starts!

What comes to mind when you think of Christmas? Is it food, drink, parties, presents or simply spending time with your loved ones? Whatever the reason, we all love that special time of year. Read on for some festive facts, tips about how to get into the festive spirit at work, as well as an edit of our top Christmas promotional gift ideas for businesses!
Top Tips of How to get into the Christmas Spirit at Work:
Set aside an hour of the day to put up a Christmas tree (even if it is a small, artificial one) and some decorations around the office, maybe some tinsel on the desks! This is a fun team building activity as well as a great way to start feeling festive in the lead up to Christmas.

Swap the cups of tea for hot chocolate instead as a winter warmer in the office. This will bring happiness, smiles and warm your cockles on the cold days.

Get creative with 'Secret Santa' and instead of scraping for those pennies (we've all been there), make homemade gifts for colleagues using recycled materials, as a cheaper and more imaginative alternative.

Put on some cheesy Christmas tunes in the office, and sing your heart out. Ok, maybe only do this on Fridays…

Everyone in the office should have an advent calendar! This will give a great feeling of nostalgia with a bonus... A small amount of chocolate is a great 'pick-me-up' when at work to keep you motivated.

Have a little healthy competition and encourage colleagues to take it in turns to bake yummy mince pies, then vote for a winner at the end… not that any of us are competitive, are we?

Lastly, we think looking like a fool at Christmas is a given, so don that special Christmas jumper that has been keeping the back of your wardrobe warm for the past year and embrace your silly side.
Top 20 Promotional Christmas Gift Ideas:
1. Corporate Christmas Crackers
Go on, pull a cracker this Christmas with these great promotional branded crackers!

Printed with a full colour overprint to maximise your organisations' logoand put your name out there.

You can supply your own design and we will make the crackers for you.

Bespoke branded crackers are ideal for large events and Christmas parties.

Promote your company brand and impress your clients by putting a personalised cracker on the table in front of each individual.

There is the option to supply your own merchandise or "new product launch" inside a cracker, or choose from our range of either high-end or low cost merchandise.

Add a sparkle and a smile to your clients' face - it's easier to remember a brand this way.
2. Promotional Santa Hats
Everyone has to look silly over Christmas, so why not look silly with these fun branded Santa hats.

These promotional Father Christmas hats make a great surprise to put on a place setting at your company's Christmas lunch, just in case anyone has one too many sherbets and forgets who they are.

They can be printed on the white hem with individual names or just with your company's logo.

Minimum order quantity: 250 units.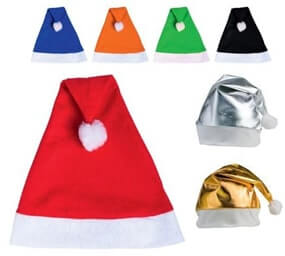 3. Christmas Hug In A Mug!
Hands up who likes hugs (me) and chocolate (me)! Then check out these great branded promotional hot chocolate pouches.

Why not impress your clients with a winter warming hot chocolate, complete with mini marshmallows??

Your company logo can be printed with a full colour sticker on front of the pouch to give maximum effect.

With a minimum order quantity of just 50 units and lead time of 2 – 5 days from artwork approval, your clients will be hugging you on receipt of these nifty gifts.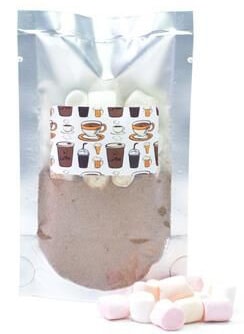 4. Reusable Silicone Straws
We think your customers would enjoy drinking their hot chocolate using a reusable red and white striped straw that looks like a Christmas candy cane!

With the anticipated ban on plastic straws in the uk, these eco-friendly silicone straws offer the perfect solution.

The thick silicone walls are highly durable and resistant to biting and chewing meaning they can be reused over and over again.

Our drinking straws are available in two different styles, a single part straw or a two part straw with a detachable end for easy cleaning.

The soft, flexible design and wide diameter makes these straws practical and suitable for all types of drinks both hot and cold.

Made from FDA certified food grade silicone with no BPAs, phthalates, glues or lead, they are both dishwasher and microwave safe.

These unique, low cost, lightweight straws are the ideal environmentally friendly promotional gift with branding available on the side of the straw.

Standard colours: light green, dark green, light blue, dark blue, red, yellow, orange, purple. Minimum order quantity:500 units.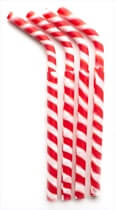 5. Christmas Patterned Mug
Why not complete the promotional gift set with a Christmas themed mug - matches the straw perfectly!

Convenient and practical product with a built in spoon, this 350ml festive mug has a minimum order quantity of 50 units.

Want to stand out from your competitors even more? Check out our YouTube clip of our magic colour changing mugs in action!

6. Stainless Steel Bespoke Drink Stencils
Our metal Christmas themed hot chocolate/ coffee stencils are flat and lightweight, perfect for a mail out to customers during the festive season.

We can offer these completely bespoke with your logo as the stencil instead, or as one of our standard shapes with your logo and marketing message printed on the surface.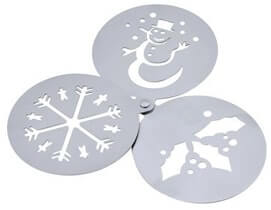 7. Bespoke Poker Playing Cards
Our custom printed playing cards are one of our best selling products; ideal as a Christmas gift, a time when families play games indoors in the warm!

These are fully customisable as they can be printed in full colour on all surfaces including both sides of the cards and the tuck box. There really are no limitations when it comes to your design on this item. You can even have a different design on every single card or we have the standard playing card suits available to print if required (all at no extra cost).

These can be reused time and time again, not just for Christmas but all year round and are also available with gold or silver foil edging for a luxurious finish. Playing cards could make a nice alternative to the traditional Christmas cracker toys.

This unisex product is suitable for all ages and supplied in a tuck box and individually cellophane wrapped.

Minimum order quantity: 500 units (lower quantities available for similar playing card products if required).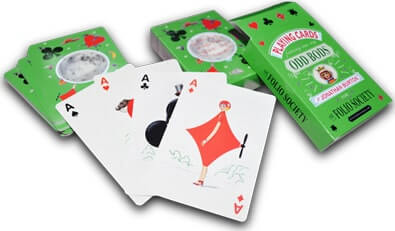 8. Christmas Glove Ice Scrapers
We have 100s of christmas giveaway ideas for businesses; show your customers you care about them this winter with our innovative car ice scrapers that have a built in glove to keep the users' fingers warm and prevent them from getting frost bite!

Our ice scraping mitts feature a protective and warm synthetic sheepskin mitten and come in other colours as well as different styles. Please contact us for more information and pricing, or if you would like to see a mock-up visual of the product with your logo on.
9. Promotional Disposible Cameras
Bring some light hearted fun to the office Christmas party celebrations with these disposible mini cameras.

You will be popular in the office when the photos get developed and you have some nice mug shots of your work colleagues!

Our mini cameras can be covered with a full colour printed card exterior, so you can really go to town with your artwork, or opt for a metallic luxury finish customised with label. The body is also available in other colours.

10. Father Christmas Bottle Outfit
Celebrate in Style! Our Santa outfit bottle set makes the perfect corporate promotional gift for customers or employees.

This mini Santa hat and scarf Novelty product would go nicely as a gift set with our personalised bottles of champagne with a full colour logo printed label. Everyone loves receiving alcohol for Christmas, w

hat better gift incentive to show your appreciation of their ongoing loyalty? P

lease contact us for more information and pricing.

The minimum order quantity for this item is 100 units.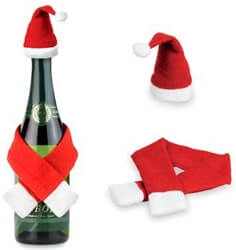 11. Personalised Christmas Baubles
Do you have a christmas tree in your office every year? Why not add an even more professional edge to your festive tree by branding your logo on our hanging christmas decorations?

Send a bauble to each of your customers and have your logo on display on their Christmas trees in years to come!

Baubles can have either matt or glossy surface finish and each is supplied on a metallic hanging cord.

Size: 50mm - 80mm or other, bespoke sizes available on request. Standard colours: silver, gold, red, blue, green, pink or pantone matched.

We have other Christmas decorations available to suit your corporate branding needs, and check out our low cost self-inflating baubles - the perfect giveaway for Christmas promotions.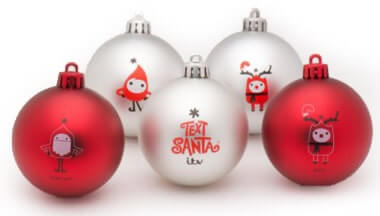 12. Grow Your Own Christmas Tree
O Christmas tree, o Christmas tree, how lovely are thy branches! We can hear you saying to yourself "if only I could grow my very own Christmas tree", well now you can with these mini tube growing kits. These are a nice alternative to your traditional Crimbo arts and crafts, appealing to both children and adults.

The mini tube growing kit (Christmas tree) measures 150 x 50.8mm cardboard tube.

The outer tube comes with a Christmas themed design and personalised with 4-colour digital print from artwork supplied to a maximum print area of 150 x 50mm.

The kit contains a 45mm plastic flower pot, a Cocopress® compost tablet and a packet of Norway spruce seeds. This kit also includes a personalised greetings card containing sowing instructions.

The lead-time for this product is approximately 3 weeks from artwork approval – so get your orders in now before the Christmas rush!

Take a look at some of the other great grow your own products we can offer.
Here is how the magic happens - Growing Instructions:
Place your compost pad into a suitable vessel and add approx. 30ml of warm water and watch it expand

Place your pot on one of the end caps from your tube, using it as a saucer.

Fill your pot almost to the top with compost and place 2/3 seeds on the surface.

Lightly cover the seeds with more compost and firm down.

Place in a warm, light position and keep well-watered until the seedlings appear.

When the seedlings are large enough to handle they can be transplanted into larger pots.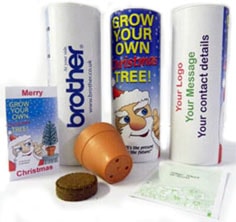 We also have a magic growing Christmas tree greeting card, watch the snow on magically grow before your eyes!

These are supplied flat packed, ideal to fit into an envelope for direct mailing.

We have other corporate Christmas cards available, please contact us if you would like to see our full range.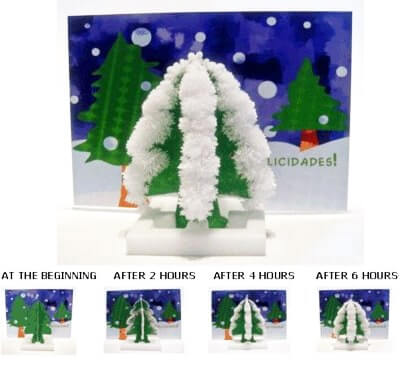 13. Logo Printed Umbrellas
It is important to say thank you and reward your clients for their continued business, especially around Christmas time.

Our promotional umbrellas make a lovely present... check out these festive red and white snowflake printed brollies.

With a large branding area, your artwork team can get really creative with your design and showcase your brand message!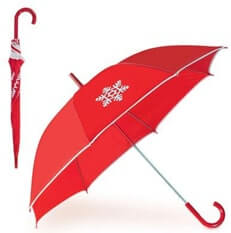 You can tell it is Christmas when a second chocolate item makes the Premier Promotional Products top products edit. Whether you have children or not, everyone needs an advent calendar to bring out the kid in us - and help us to count down to the Christmas holidays!

A handy promotional desktop advent calendar complete with pop out stand, with 12 or 24 windows filled with 50g of Christmas shaped chocolates or truffles.
We have different shapes and sizes to suit your needs, and different chocolate brands including Baileys

®

, Mini Toblerones

®

, Lindt

®

as well as a Celebrations advent calendar with a random mix of: Snickers

®

, Mars

®

, Bounty

®

, Twix

®

, Milky Way

®

, Maltesers Teasers

®

, Dove

®

and

Dove Caramel

®.

These can be printed on all 6 sides, either select from a range of 'off the shelf'' designs that can be personalised with your company name, logo and individual message or provide your own individual artwork for a fully bespoke design.

15. Customised Winter Hand Warmers
Hand warmers are the perfect, low cost promotional giveaway during the chilly winter months.

These Christmas tree, Santa Claus and snowman shaped hot packs provide approximately 15 minutes of optimum heat up to 50°c, due to the crystallisation of liquid content when metal plate is folded.

These can then be recharged simply by placing the gel hot-cold pack in boiling water for 10 minutes after use, and are reusable for up to 1000 times! That is a long shelf life for a small promo gift.

We have many different styles and colours of this product, and we can also offer completely bespoke shaped hand warmers to cohere with your corporate branding.

Flat and lightweight to send in the post; use these in your next direct mail campaign to help spread the word and watch your business grow!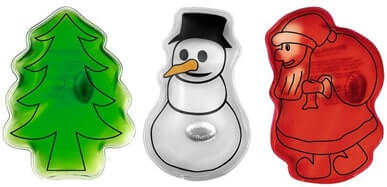 16. Branded Snow Globes
Increase exposure for your firm by putting your name on your customer's desks during the winter season.

Thanking your customers at this time of year can really help to retain existing customers and increase sales around the festive period.

Desk top snow and glitter globes and photo holders that doubles as a paperweight - the traditional festive gift with a corporate slant.

These domes come in different shapes and sizes and are an ideal stocking filler or Christmas cracker gift for customers.

Minimum order quantity: 50 units.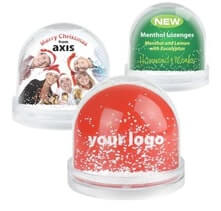 17. Promotional Christmas Jumpers
'Tis the season for crimbo sweaters! Either fully customisable with your brand design or choose from our Christmas jumper templates and personalise with your logo or text.

Ideal for Christmas Gifting, our standard colours include black, navy blue, charcoal, burgundy, plum, orange and mid grey. We also have bespoke colour options available.

Machine Washable and UK made, our minimum order quantity is 50 units.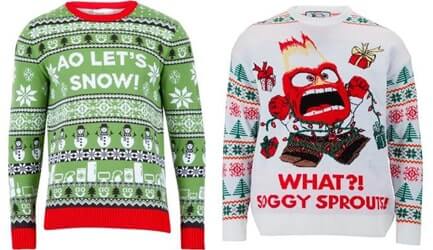 18. Christmas Socks
We have a range of sock styles and materials available, each with different branding method options including woven, printed, embroidered and dye sublimation.

Our Christmas socks come supplied in a presentation box, or with header cards available at an additional cost. Other designs available. Minimum quantities apply.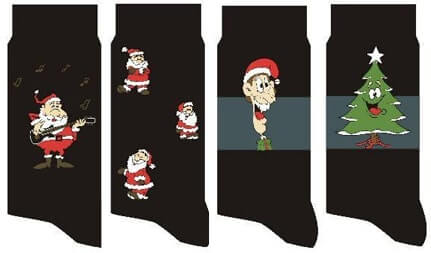 19. Christmas Tree Shaped Compressed T-Shirts
Check out our Complete Guide To Compressed Textiles to find out exactly what they are, how you use them and

w

here, when and why you should use compressed textiles for the promotion of your business!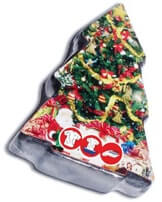 20. Novelty Beermat Faces
This fun, novelty Christmas gift can be printed in full colour with your artwork.

Check out our other coasters and beermats, we have 100s of different styles, shapes and colours to suit your corporate branding requirements.

Minimum order quantity: 100 units.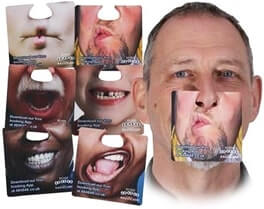 Luxury Christmas Gift Ideas
Looking for a corporate Christmas gift that is a bit more high end? Check out our top luxurious festive products range, perfect for your top clients.
Get In The Festive Spirit With Some Seasonal Song Favourites
I've Just Heard a Michael Buble Song, Does That Mean It's Christmas? "I I I I I don't want a lot for Christmas, there is just one thing I need, and I don't care about the presents underneath the Christmas tree!" Now hands up who sang that iconic Christmas song in their head, we all did :)
So how do these seasonal tunes help us get into the spirit of Christmas, especially in the office? These festive songs can promote productivity in the office, as music generally helps to raise moral. This will ensure that employees stay positive, motivated and enjoy their working day; which we think is a pretty good reason to get those tunes on!
Our Top 10 Favourite Christmas Music Playlist
Right, pop pickers (that phrase is for those of a certain age), this is our Premier Promotional Products Top 10 Christmas songs. This is the playlist that we will be listening to in the lead up to Christmas, and we love every single one!
Merry Christmas everyone - Slade

Wish it could be Christmas every day - Wizard

All I want for Christmas is you - Maria Carey

Last Christmas - Wham

Fairytale of New York - The Pogues featuring Kirsty MacColl

Step into Christmas - Elton John

It's the Most Wonderful Time of the Year - Andy Williams

Wonderful Christmastime - Paul McCartney

Do They Know It's Christmas? - Band Aid

Merry Christmas everyone - Shakin Stevens
Facts About the Festive Season
So we think the secret is to have a happy and professional balance in the office, as you do not want to be known as the office Grinch!!! No one likes a grump or a negative Nelly, do they? Have a laugh, but keep focused on the job at hand and you will sail through the festive period. Like what you see and want to see more? Please click to view our whole Christmas merchandise range.