Your Complete Guide to Compressed Textiles

What are Compressed Textiles?
Compressed textiles refers to a cotton product of your choice, such as a t-shirt or a towel, that is branded with your logo using decorative apparel techniques such as screen printing or embroidery. The textile product is then compressed to make it small enough to fit into your customers hand with ease. The process involves:
The garment decorated with your logo or chosen artwork in one or more positions.

The garment compressed into a compact shape of your choice.

2 pieces of printed insert cards applied to each side of the compressed garment.

Shrink wrapping to seal the contents.
How do you use Compressed Garments?
Usage instructions are printed on one side of the insert cards. It is very simple.
You open the shrink wrap packaging.

Place the branded garment in water for about 1 minute until the item expands to its original size.

Dry the garment and iron out any creases.

Why Should you use Compressed Textiles for the Promotion of your Business?
Compressed textiles are a cool and clever way to promote your product or business as they are very effective in grabbing people's attention.

Why offer an uncompressed garment when you can generate more interest and impress potential customers using compressed garments?!

This is a promotional item that customers are likely to wear and keep for a long period of time, which will continue to promote your brand – thus offering a high return on investment.

We can compress many other textile products including cotton bags, promotional socks and other underwear, branded aprons, printed bandanas and gloves – to suit all companies looking to grow and increase sales.

Compressed garments have added value, as they are cost effective but perceived to be worth more due to the high originality and unique properties.

As the products are compressed so small, this makes them easier and cheaper to transport, distribute and display to clients.

We can make any bespoke custom shape, allowing for an exact replica of the company's logo and enabling you to be truly creative in enhancing your brand.

Do you have promotional T-shirts already printed that you would now like to be compressed? We can do this for you!

There is also the option to substitute one of the carton inserts for a flyer!

We can also flow wrap compressed textiles in such a way that the inside content is hidden until the packaging is opened, this is useful if the item is a gift or when sending through a postal service – for example for the Post It T-shirts (more info about Post It T-shirts below!)

Flow wrapping can be printed and also allows for further creativity, as a compressed textile can be flow wrapped with extra promotional products inside, such as pens, keyrings or toys for example.
Other items can also be added inside the shrink wrapped package, such as CDs, coasters and DVDs adding further value to the product.

We understand the importance of high quality, which is why we print in offset of 300gsm carton.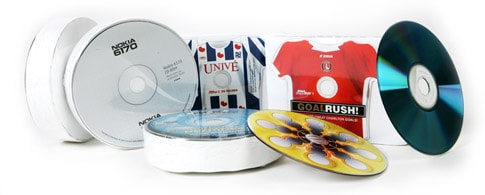 Where and When Could Compressed Textiles be Used and for Who?
There are so many different ways to use compressed textiles in your business, here are just a few:
They can be used as a really original way to invite guests to special events such as new product launches… or here's one you might not have thought of, what about using compressed textiles for your hen do, stag do or party invitations!

They are an effective tool for online promotions and campaigns – why not encourage customers and employees to post pictures and videos on social media of their compressed garments to help create a buzz online and encourage more traffic to your website?

Our "Post It T-shirts" are a great product for an innovative direct mail campaign. The Post It T-shirts are the same shape and size as a post card (measuring 10 x 15cm) and so can be sent in the post.