Top Football Promotional Marketing Ideas during the World Cup...
It's coming home, football's coming home!

How To Gain Customers During The World Cup?
The Fifa World Cup is one of the largest sporting events in the world. You know that the majority of your customers will be watching on their screens at home, but how can you use this to your advantage and score with your customers during the World Cup?

In order to tap into the needs and wants of your clients, think carefully about how you can add value to their World Cup experience, for example through offering a promotional gift that will not only brighten up their day, but also prove useful throughout the World Cup events (scroll down for ideas).

Other ways to add value would be to coach your customers by including relevant and timely links that they will find informative, within your e-shots (email marketing campaigns) as well as in your email signature, such as reminding customers when there is an important match approaching.

Always have a game plan in the lead up to ensure that you target your customers with the right content at the right time.

It is a great idea to combine your promotional marketing campaign with social media during the world cup, scoring you points not only with your existing customers, but also with new followers on your social channels! As well as the official #WorldCup hashtag, don't forget to use other football related hashtags that are trending at the time, for maximum online exposure.

Use different multimedia such as YouTube videos, gifs and memes as creative ways to get your marketing message across, engage your customers and stay on top of the action (DMN 2018).

Why not use direct mail to send customers and prospects a football themed gift branded with your logo, as a way to kick start the buzz around other football events such as the Premier League.

Keep your eye on the ball - look out for what your competitors are doing to get their audience excited during the Fifa World Cup.

Are you achieving your goal? Make sure you also analyse the results of your campaigns, to determine which are working well and which need optimising for improvement.

When it comes to promotional merchandise, the rules are simple. You name the product and we can make it fun for football. Here are just a few of the promotional items that have been adapted for the World Cup this year:
1. The Hover Football
Watch the new Hover Ball in action on our YouTube Channel! This air powered football slides effortlessly on flat surfaces, floating by air, and has a fabulous colourful flashing LED light.

This product can be used on any indoor or outdoor smooth surface like wood, carpet or concrete; particularly useful for indoors as the foam bumper edging provides protection against walls and furniture, preventing any damage.

It is made from PP and comes with 4 AAA batteries. Print this with your company logo for maximum impact!
Become walking, talking World Cup advocates and get into the football spirit with these stylish football shaped backpacks!

They can be branded with your logo to promote your company as well as showing support for the World Cup.

The perfect product for any customers with a unique sense of style. Check out our other football backpack products.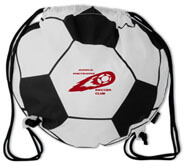 3. Football Promotional Power Banks
Oh, the panic we feel when the phone battery is about to die! Yup, we've been there... but with our power banks you will never lose touch with your customers again.

Help them stay connected with the world and specifically with you, by branding your logo onto our new football power banks - a useful promotional product with a wide audience appeal.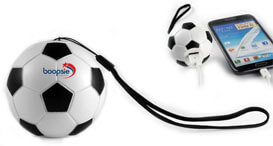 4. Promotional Bang-Bang Sticks
Just bang these sticks together and you have a great way to get your message heard.

These promotional bang-bang sticks are ideal to maximise your branding at the World Cup this year.

Printed to both sides with your logo, they are a great, novelty event giveaway.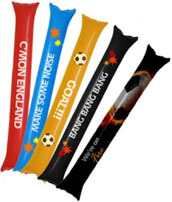 5. Printed Trophy Keyrings
Keyrings are still one of the most popular pieces of branded merchandise companies use to promote their business.

Who doesn't use a keyring? We all use them for the home, car, and office.

This trophy keyring is popular for the upcoming World Cup and is a great way for your business to promote their brand. Check out more of our football themed keyrings!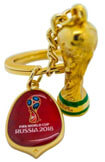 6. Bespoke Football Shaped Cufflinks
We can create cufflinks in any shape you require.

Our football cufflinks are a great promotional gift incentive for your top clients, to show you are thinking of them during the World Cup.

Minimum order quantity: 250 units.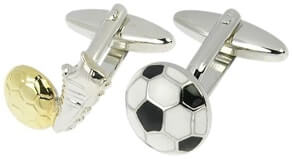 7. Football Pens and Pencils
One of the most popular products in the promotional merchandise industry, whether you are a large or small firm, you just can't go wrong with pens and pencils!

They're low cost, lightweight and useful with a long shelf life.

The football on the end of the pencils even double up as an eraser/ rubber!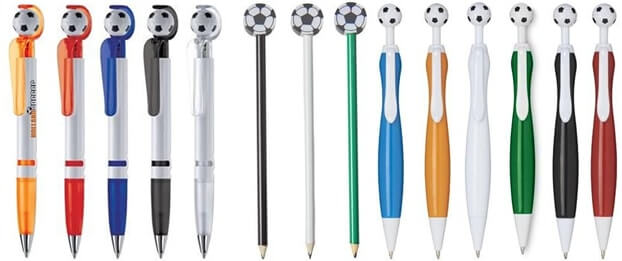 8. Football Shaped Folding Water Bottles
These nifty 500ml folding water bottles come with an aluminium metal carabiner, to clip onto a sports bag for easy access.

Our football drink bags include a twist on, push-pull spout with tethered cap.

Reusable bottles are a great, eco-friendly alternative to single-use plastic bottles.

The minimum order quantity for these is 100 units.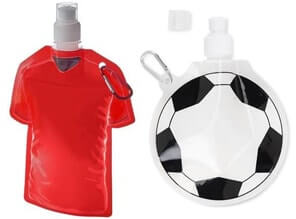 9. Football USB Memory Sticks
Our printed football shaped USB flash drives are the perfect gift for a sports promotion.

T

hey are supplied either with a free lanyard or keyring and are available in black, blue, silver, red, green, yellow, white, purple, pink and orange, as well as pantone matching if required to cohere perfectly with your corporate colours.

Our PVC bespoke football kit USB sticks can be created to any custom design, for example any sports kit or outfit.

These are great for a mail out campaign as we can install data on the USB for free, for you to send out to potential or existing customers.

Available memory capacity: 128mb, 256mb, 516mb, 1gb, 2gb, 4gb, 8gb. Minimum order quantity: 50 units.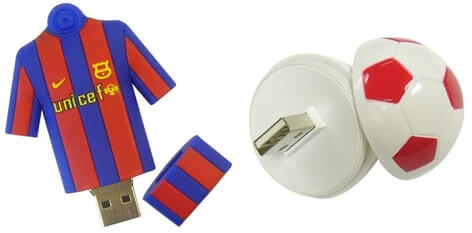 10. Inflatable Football Chairs
Need a way to impress and motivate employees or customers even more??

Why not kit out your office with football inflatable chairs during the world cup and organise showing the match on a projector screen at work!

It is a great relationship building activity as well as just a bit of fun, showing appreciation for the hard work of your staff.

These can be branded with your logo and reused time and time again, for every Premier League, World Cup or other sporting event.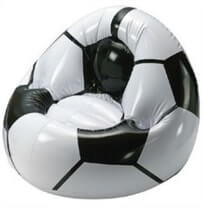 11. Plastic Fly Insect Swatters
The perfect way to eliminate any distractions during a match (and promote your organisation's logo at the same time!)

Our football shirt shaped fly swatters are available in blue, yellow, green, red, orange and clear transparent.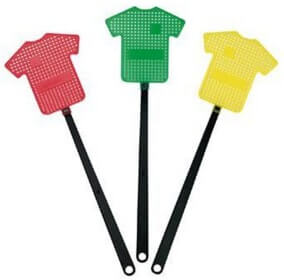 12. Football Themed Chocolate
Tickle those taste buds and make your customers smile with our promotional football chocolates.
Many studies have proved that chocolate helps to lift moods, making people feel happier and calmer due to the endorphins it stimulates, creating feelings of pleasure in the brain (Readers digest 2017).

We have many different chocolate products available to be printed with your brand logo, contact us for more information and pricing.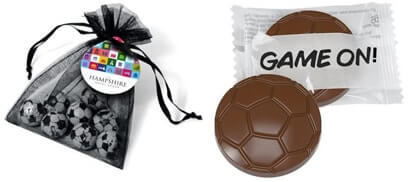 13. Football Rain Ponchos
It rains on average for 133 days a year in the UK (Current Results), making our ponchos supplied in a sports ball shape holder the perfect promotional product for English weather!

This low cost giveaway comes with a keyring attachment and measures 66mm in diameter, with a minimum order quantity of 100 units.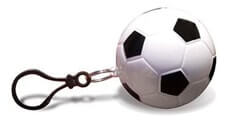 This novelty bath product is simply just a bit of fun, and a nice alternative to the stress ball!

Available to screen print in one colour with your organisation's logo or brand message.

Size: 80mm. PVC Phthalate Free. En71 Certified.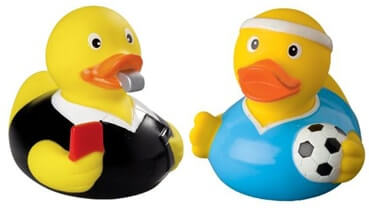 Are you a football manager who cares about your team?

Look after them with these logo printed vanilla flavoured lip balms shaped like mini footballs.

Caring for sports lover's lips against sun, wind and rain.

Minimum order quantity: 250 units.

Take a look at our sliding lipbalms video on our YouTube channel.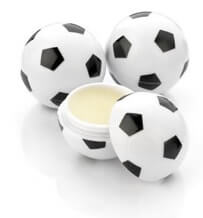 16. Referee Sports Whistles
Football sports whistles are a fun promotional giveaway for any sports event.

These come available in both solid and frosted translucent effect, in a variety of different colours.

We can also supply these with a matching cord at extra cost, please contact us for a detailed quote.

Minimum order quantity: 100 units.

17. Football Mints
Always stay confident with fresh breath with these handy pocket mints!

These football mints cointain 8g of mints and have a minimum order quantity of 500 units.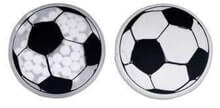 18. Football Handy Bugs
Football logo bugs are a low cost, fun, stickable promotional friend!

We have many different choices of bug, feet, hands and tail printed in up to full colour.

These are UK made and have a minimum order quantity of 100 units.

19. Teddy Soft Toy with Football Kit
Our 10 inch plush soft toy teddy bear comes with a custom printed polyester or cotton football t-shirt.

These can be supplied with or without the football.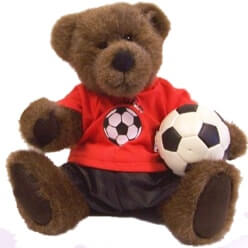 20. Bar Table Football Games
A great ice breaker at any event!

Check out our other football table games or contact us for more information and pricing.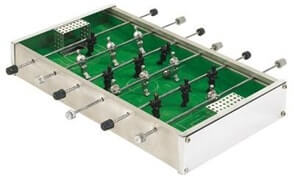 We urge you to take on board some of our tips and give your football promotional marketing plan your best shot! We have no doubt that you will find it is a real kicker! Haven't found what you're looking for from our ideas above? Check out our full football related product range, or contact us and we will do the leg work for you :)
Interesting Facts and Cheesy Jokes!
Football, or kickball, originated in China around 476 B.C and is still the most popular sport in the world with over a billion fans watching worldwide (BBC 2016).
More than 80% of the world's footballs are manufactured in Pakistan (The Atlantic 2014).
Only 8 teams have ever won a World Cup, these are: Brazil, Germany, Italy, Argentina, France, Uruguay, England and Spain (Wikipedia).
According to the BBC (2016) a football song "must have an easy chorus to chant, and be easily adaptable lyrically for optimum praise of a club's player, or insult of the opposition".

Q: Why did Cinderella get kicked off the Football team? A: Because she kept running away from the ball :P

Q: How did the football pitch get all wet? A: The players dribbled all over it.