The New Promotional Fidget Cube Craze
You may have seen all over social media the new Fidget Cube and Fidget Spinner craze over the past month… but what is all the fuss about?

What is a Fidget Cube?
The Fidget Cube is a fantastic promotional desk toy that can be branded with a company logo or marketing message. For anyone who likes to fidget, and yes it is ok to fidget, whether you are a clicking a pen or squeezing those stress balls – most of us have our own way of unknowingly twiddling while deep in thought. Imagine a Newton's cradle, stress ball and Rubik's cube all rolled into one – Fidget Cube!
Two brothers, Matthew and Mark McLachlan, who designed the Apple Watch accessory have developed this new method that lets you fidget discretely at your desk, all while increasing concentration levels. This desk toy fits nicely in the user's pocket and is designed with six tactile surfaces that allow you to flip, roll, click, rub, spin and glide over until your heart's content.
How can they be branded?
Fidget cubes have become a very popular product in the promotional merchandise industry. They are available with background colours of white, black and grey. The buttons are available in red, black, light blue, green, pink, yellow and green, or they can be pantone matched on orders over 5000 pieces. This fantastic promotional product can be branded to the spinner face with up to 2 colours - what a bonus, you can fidget and promote at the same time!
Our branded Fidget Cubes are light, weighing 1.4 ounces and measuring just 1.3 inches, easily fitting in a handbag or backpack. Some experts believe we twitch as a way to distract parts of the brain that become bored while we are working, which in turn allows other areas to pay attention to the task at hand, we all need one of these – don't we?

Where can you use the stress toy?
Fidget Cubes can be used anywhere, at any time; on the tube you need a fidget cube, at home, in the office at work, or when out and about. Adults and children alike, it'll be an item you'll pick up along with your phone and not want to be without… You'll be singing "where's my keys, where's my phone, where's my Fidget Cube?"
How are they supplied?
Fidget Cubes are supplied boxed (as per below left image). Plus for another added bonus, for a higher quantity of 1000 units and a small additional cost, you can add that little extra touch and have these little beauties in a smart black case (as per below right images) with the Fidget Cube sitting snuggly in the case. The zip up cases can be printed with a company logo in one colour to the lid.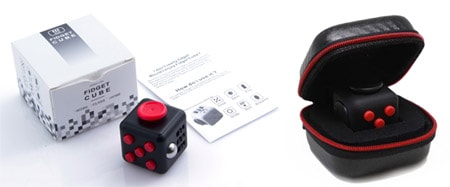 How could you use branded Fidget Cubes in your next promotional marketing campaign?
As a free giveaway at a trade show or event.

As an incentive gift for customers.

Prize for a social media campaign.

To help de-stress employees.

Perfect for a retail environment.
Who would the Fidget Cubes be appropriate for?
Schools, colleges and universities can use fidget cubes to help de-stress students.

Hospitals and children's centres can use the stress toy to help act as a distraction for patients.

Many different companies can use the tool as a cost effective promotional method which appeals to both male and female end users.

They help brands attract a young audience and 'get down with the kids'!
Logo Printed Fidget Spinners
We also have other fidget toys including spinners, watch them in action below!

Click to view our fidget cubes, our friendly sales team will be happy to provide free quotes and visuals for our fantastic Fidget Cubes, email us for more information.