Multi-Functional Promotional Pens
If you're anything like us (and I know a few of you will be) you are likely to keep things in a "safe place" until you need them… and then can never remember where that safe place is.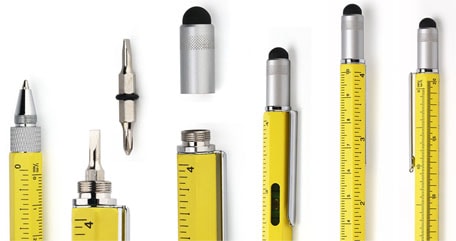 This multi-tool pen means no more searching high and low for that all important ruler or screwdriver, it will be right at your figure tips with this stylish new promotional pen. For the modern day DIY'er, there is no time wasted with multiple tools on hand for the moments you see a broken table or chair… The pen really is mightier than the sword!
What is the Multi tool pen?
This promotional pen can be branded with your company logo and features all the tools that any self-respecting DIY'er should carry at all times. The DIY 6 in 1 multi-functional tool pen includes a ball pen, spirit level, ruler, screwdriver, scales and a touch screen stylus for all those smartphone addicts. No longer will you have the stress of trying to find those individual tools that you can never find when you need to.
1. Ball Pen – Twist action, writes fluently and is durable.
2. Stylus - Can be used with any touch screen phone/ iPad etc. (Handy for those with grabby hands, ensuring phone screens stay clean!).
3. Spirit Level - For determining those horizontal and vertical levels.
4. Ruler - Convenient for study and work.
5. Screwdriver - Unscrew the top to reveal two headed screwdrivers in Phillips and standard.
6. Scales – The nifty pen has multiple different measurement scales.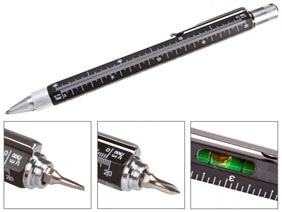 How is this product branded?
This customisable product comes in a variety of colours which can be branded engraved or printed with your company logo. The multi-tool pen is 155x15mm and has a print area of 65x5mm. Our standard colours are silver, white, black, yellow, blue, green and red. These can however, be pantone matched to any colour of your choice if you are looking for something truly unique to portray your brand. The barrel of the pen can be pantone matched from 500 pieces (blue and green examples below) and the entire pen can be pantone matched from 1000 units (pink and black examples below).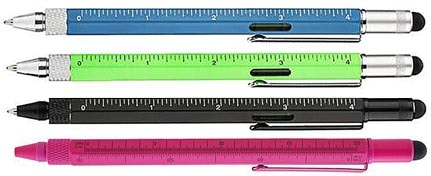 When could this personalised product be used?
Use the new multi-tool pen in your next promotional marketing campaign as a free giveaway at a trade show or event.

Great for companies that wish to stand out from the crowd.

Use as an incentive gift for customers or even a prize for social media campaigns or customers of your choice.

Ideal for retail environments in the DIY or construction industries.

Many different companies use these tools as a cost effective promotional method which could appeal to both male and female end users.

The perfect gift for any handyman or woman and its compact design makes it the ultimate portable promotional gadget.
Click to view our whole multi-tool range; our friendly sales team will be happy to provide free quotes and visuals for any of our fantastic promotional merchandise. Please email us for more information.