Outdoor Commercial Umbrellas & Commercial Parasols For Pubs
Whatever the weather, a branded garden umbrella or promotional parasol is an essential item in any pub garden or outdoor event. Offering a shady spot when the sun is in the sky or a crucial shelter from an unexpected shower, providing some much needed security to any outdoor gatherings or al fresco restaurant dining.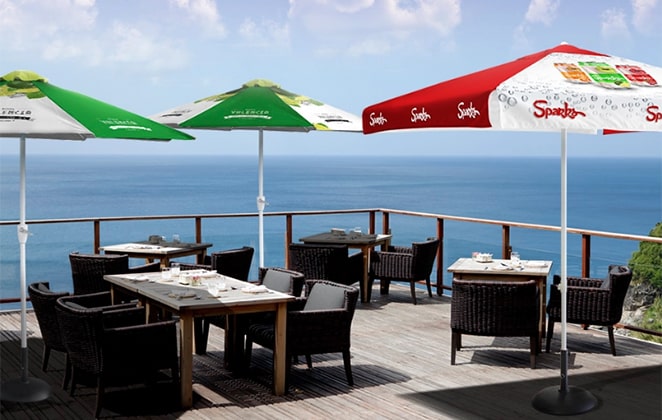 What are the different commercial uses for parasols and umbrellas?
Branded pub parasols
Pub beer garden parasols not only keep your customers happy on wet and rainy or very hot days, they are an effective tool to subliminally get your brand into the minds of your customers. Alcoholic beverages, spirits or beer logo parasols are a great way to promote your alcohol brand and encourage customers to buy your drinks. Premier Promotional Products has an extensive range of large pub parasols for sale, contact our sales team today to find out more.
Large commercial umbrellas for restaurants
With an increase in demand for outdoor dining and more people spending time sitting underneath pub garden parasols, commercial restaurant umbrellas have never been more popular. Whether your restaurant is looking for an upmarket style or a classic low cost option, Premier Promotional Products can deliver your commercial restaurant parasol needs, contact us today to find out how.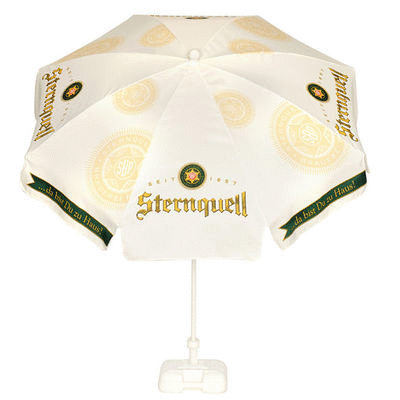 Promotional golf umbrellas
Whatever the weather, you can't stop a sporting fanatic from playing their game. That's why they need that all important golf umbrella protection from the outdoor elements. Premier Promotional Products offers a range of promotional golf umbrellas cheaper or higher end to suit differing marketing budgets, speak to the team now for more information and pricing.
Promotional beach umbrellas
Whether you're promoting your outdoor water sporting activities, surfing hut, banana boat stand, or your beach bar and restaurant, promotional beach umbrellas are a great way to please the crowd whilst attracting their attention! Premier Promotional Products is a commercial beach umbrellas wholesale supplier, happy to help with your promotional needs!
Commercial umbrellas for pools
Commercial pool umbrellas are a useful tool for promoting your brand to a wide audience, whether your business is in the travel and tourism industry or you're an alcohol or food brand that wants to sell to pool party goers!
Commercial umbrellas for food carts
Stand out in any festival crowd, on the side of the road or public park with an overhanging parasol over your food cart, featuring some eye-catching and delicious branding promoting your dining options! At Premier Promotional Products we can help you to design your own parasol, just contact us to find out more!
Promotional gifts umbrellas
Promotional gifts can be a very beneficial and fruitful way to gain new customers or show appreciation to your existing market. A promotional umbrella is not only a useful promotional item that the receiver can use over and over again, it is also a unisex item that is suitable for most age groups, making them an ideal promotional giveaway.
Commercial umbrellas for tables
Commercial table umbrellas are the perfect way to drive sales by displaying a company logo to a large audience. Take branded pub umbrellas, for example, splayed with the different branding of delicious cold beer or cider, or that mouth watering champagne. Who wouldn't want to order one after you've put the idea in their head?!
Commercial cafe umbrellas
Similarly to branded beer garden umbrellas, commercial garden umbrellas for cafés can be a lucrative advertising campaign for your business. This is a branding concept that has already been adopted by many existing coffee shops with outdoor seating areas.
Commercial market umbrellas
Typically used in commercial spaces for food vendors, farmers markets, craft fairs, book fairs, market stalls and other traders, commercial grade umbrellas help to protect the merchants' kiosks, display stands and booths while they trade. These large commercial outdoor umbrellas keep perishable goods away from harsh weather conditions, providing a sheltered spot for traders to sell their merchandise to their customers, whilst also having the ability to print the canopy with custom logos or promotional messages.
What are the best garden parasols for UK companies?
Choosing the right commercial parasol for your business will depend on the space available, the purpose and your individual business needs. Browse our range of commercial parasols for sale here or continue reading for top tips when choosing promotional outdoor umbrellas…
What are the best commercial cantilever umbrellas?
Heavy duty cantilever parasols are freestanding umbrellas that are supported with a curved arm attached to a base at the side. The design makes them useful to hang over any style of outdoor seating and can be swivelled or turned to any position using the rotating arm, making them a more flexible option than the classic style centre post umbrella. A cantilever umbrella is more sensitive to wind than a centre pole parasol because of the more complex balancing required of the weight of the parasol canopy itself and the base weight, this is why it is important to invest in a cantilever umbrella wind stabilizer.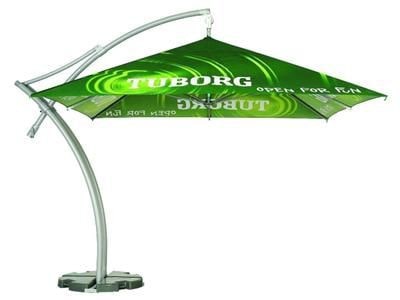 The best price parasols for promotional printing
For cost saving, cheap promotional umbrellas your best option is the classic patio umbrella, which usually has a pole that goes through the centre of a garden table and requires a weighted base that is normally supplied separately.
The best large parasols for commercial use
The larger the parasol, the larger the branding! When choosing a branded parasol it is important to consider the size of the space and the table that is going underneath. If you require a large umbrella, make sure that the material is strong and durable enough to withstand extreme weather, resistant to wear and tear and easy to clean and maintain, and that the base is heavy enough to prevent the parasol from lifting in strong winds. Also consider whether you would prefer one large commercial parasol or multiple smaller sized promotional parasols for your space. Premier Promotional Products has a wide range of large commercial parasols for sale, contact us for more information and pricing.
The best parasol for windy conditions
If you're looking for a commercial grade wind resistant patio umbrella, your best bet is to buy a heavy duty patio umbrella with vents in the material at the top of the umbrella. The vents allow some breeze to travel through the umbrella, reducing the amount of wind that is caught in the fabric whilst still keeping out the rain and sunlight. Whilst windproof vented umbrellas do help a significant amount during very windy days, if used in an area with severe weather conditions and extreme winds, the vents will only help so much. When comparing vented umbrellas vs unvented, you should take into consideration the cost per unit and your budget available as well as your proposed purpose and use of the branded parasol umbrellas. View our vented windproof umbrellas for sale here.
The best quality parasols in the UK
It is important to select good quality, heavy duty commercial umbrellas that will run the test of time, rather than just going for the cheapest option, which can sometimes cost more money in the long run. Purchasing promotional umbrellas cheap and cheerful may not be the best option as chances are, they are not as likely to last as long as sturdy, high quality promotional umbrellas and could require expensive repairs or replacement parts. At Premier Promotional Products we can help you to choose a commercial umbrella that balances both quality and budget.
Commercial grade parasols that are crank and tilting parasols
The best quality parasols are crank and tilt parasols enabling you to adjust the positioning of your traditional table patio umbrella or tilting cantilever parasol at different times throughout the day as the sun moves through the sky. Whilst tilting garden parasols are usually a little more pricey, sometimes it's worth investing in an option with tilt adjustment function.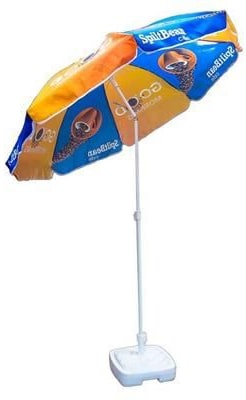 Commercial patio umbrella wind stabilizers
To prevent your umbrella from blowing away in the wind you are going to need a weighted base to weigh your custom printed parasols down. It's important to note that not all garden parasols come with a parasol ground anchor included, most parasol bases are sold separately as usually the umbrellas need replacing more frequently than the parasol stand weights. When you're choosing parasol weights, make sure they fit the diameter of your umbrella pole and check that the parasol base weights are suitable for the size of your branded parasol too. Large commercial parasols will require a heavier base than smaller alternatives.
Where to buy parasols and wholesale promotional umbrellas?
If you're on the hunt for promotional parasols and you're asking yourself, where can I buy parasols? You've come to the right place! Premier Promotional Products is a promotional umbrellas wholesale supplier specialising in a vast array of printed parasols, commercial umbrellas for patios and other luxury branded umbrellas. Design your own umbrella in your corporate colours and have it printed with your company logo to display your café, pub, restaurant or any other business to the world and increase awareness of your brand. Click here to get in contact and find out our promotional umbrella prices.
Commercial parasols buying guide summary
Commercial outdoor parasols and promotional patio umbrellas can be excellent marketing tools used to promote your company and branding to consumers, when they have been printed with your eye-catching company logos and artwork.
We've identified the key things to look out for when choosing the best parasols that are right for your business or commercial space. As well as highlighting the different uses for commercial outdoor umbrellas
So if you've established that custom commercial umbrellas are right for your business model then contact us today for more information and to find out pricing for our commercial umbrellas for sale.