The New Anti-Gravity Phone Case Absorbs onto any Smooth Surface!

It is Time to Start Defying Gravity! Premier Promotional Products has found the new Selfie Stick. In the 21st century the promotional product industry is becoming more and more tech savvy, the introduction of the new Anti-Gravity Mobile Phone Case is a new, fabulously magical product if ever you saw one… This revolutionary invention is the perfect promotional giveaway item for customers, employees, exhibitions and trade shows.
Watch the promotional phone case in action!
The promotional phone case has a fast absorption rate, meaning it can be firmly secured onto smooth surfaces, thus enabling you to use your mobile phone hands-free.

It is the perfect tool for taking selfies, skyping family, having FaceTime conversations with friends, recording videos or simply making multi-tasking easy peasy. Never before have you been able to stick your phone to your bathroom mirror and watch videos whilst you clean your teeth, amazing!
The Anti-Gravity Promotional Phone Case is multipurpose as it is also designed to protect your mobile phone against drops and scratches. With the product attached to your phone at all times, this means that you will not forget to bring it out with you, and you don't have to worry about trying to fit it in your handbag or pocket! This mobile phone case is basically a new and improved version of the selfie stick.

With both an external and internal branding option, the Anti-Gravity Phone Case is ideal for innovative, forward thinking companies whose promotional marketing campaigns are looking to innovate and stand out from competitors. It is a useful event giveaway item that customers are likely to keep for longer (than other typical event giveaway products with less usage properties); therefore it is a fantastic way to boost your brand awareness for an extended period of time. This amazing product is certainly a conversation starter, and with your company's logo placed right in the centre of the phone case, everyone will be talking about your brand! – It's a no brainer.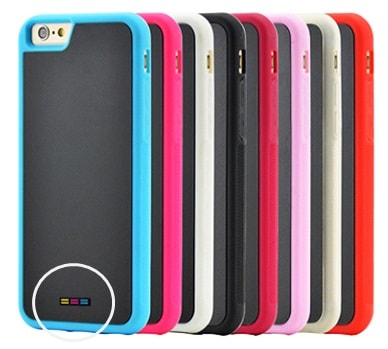 Further details about the Anti-Gravity Phone Case:
Suitable for iPhone 5/5s/SE/6s/6s plus and Samsung Galaxy S6/S6 Edge/S7 Edge.

The phone case absorbs onto smooth surfaces such as glass, mirrors, metal, white boards, tiles, painted furniture, and many more!

Made of imported polymer nanomaterial.

Will not stick to your hands or clothes or leave any residue.

Suitable for mobile phone GPS and can be stuck on and detached anywhere, anytime you want.

If the back of the phone case becomes dirty, you can easily clean it with water to recover it back to its former state.

It works perfectly with all mobile phone functions including GPS, Wifi, Apple Pay, 4G, NFC and Bluetooth.

With the Anti-Gravity concept still very new, this phone case will help to promote and market your brand, be it viral or through word of mouth, at a very cheap cost.

Standard Colours: Black, White, Red, Pink, Blue, Rose Red, Green.

External print area: 5mm x 15mm.
Like to see more?? Take a look at some of our other phone accessory products.