Premier Takes Part In Charity Colour Obstacle Rush
On Saturday 10th June, we will be taking part in the Colour Obstacle Rush, raising money for St John of Jerusalem Eye Hospital.

The main Fundraisers consist of Isla Richards and Diana Safieh (Dee) who are leading the 'Dee's Knees' team. The rest of the team consists of Jess, Suzie and Shirley from Premier Promotional Products, as well as Noreen, Vivian, Amy and Marie-Claire from St John of Jerusalem Eye Hospital.

The St John of Jerusalem Eye Hospital Group work hard to relieve poverty and bring hope to more than 128,000 Palestinians every year. The services provided by the St John Hospitals, Clinics and Mobile Outreach Unit revive education and employment prospects and contribute to economic growth and rebuilding the fractured infrastructure.
The Core Activities Now Include:
The East Jerusalem Eye Hospital

The Hebron Eye Hospital

The Gaza Hospital

The Muristan Clinic

The Anabta Clinic

Training Mobile Outreach Programme

Local Doctors and Nurses

Researching against genetic eye diseases
Please help us make a difference by making a donation to our fundraising page. Any contribution will be greatly appreciated, not only by us but by those who will be impacted by your contributions.
Don't forget to tick the box to reclaim Gift Aid on your donation if you're a UK tax payer, making your donation go even further in changing the lives of others.
Why Donate to the Eye Hospital Charity Group?
St John of Jerusalem Eye Hospital Group has been operating now for over 130 years. Over 110,000 patients are treated annually, a third of whom are under the age of 18.
Did you know that 80% of all blindness is preventable? However, much of the horrible condition in Palestine is caused by several factors; poor diet, diabetes and cataracts but more importantly also the lack of the ability to get good treatment (if any at all) and because of this, sight problems end up going unattended to.
Did you also know that the people of the occupied Palestinian territory (OPT) have a rate of blindness ten times higher than people in the West? A big reason as to why blindness is such a large issue is because their poverty levels are very high.
Another fact; The West Bank is home to one of their hospitals as well as being home to around 700,000 refugees and 51.8% of all families live on less than US $3.15 per person per day.
The St John of Jerusalem Eye Hospital Group is the only charitable provider of eye care in the Palestinian territories. With their hospitals and clinics in Jerusalem, Gaza, Hebron, Anabta, extensive mobile outreach programme and doctor and nurse training programme, they managed to treat an incredible 128,000 patients last year alone; a third of which are children.
What also makes the St John Charity Group so respectable and so worth donating to, is the fact that they treat patients regardless of ethnicity, religion or ability to pay.
How your Kind Contributions will be Spent:
£10 could buy 3 bed sheets for baby cots
£25 could buy a diagnostic Corneal Topography procedure
£50 could buy Outreach education sessions in the rural West Bank
£100 could buy laser treatment for diabetic retinopathy
£200 could buy 4 phaco packs, which are used in cataract operations
Your support of this very worthy cause is vitally important to them. Thank you for your donations.
5 KM / 3.1 MILES 20 OBSTACLES 8 COLOUR STATIONS 20 MUSIC ZONES



If you want to support us even further – we would love to see you come and support us at the finish line or watch us while we run, skip and dance (and stumble, huff and puff our way around!)
You will get to see us looking similar to this…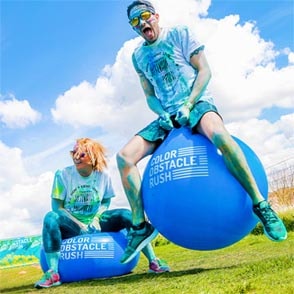 Some Brief History and More Detail:
To date, over 200,000 participants have taken part so far.

This will be the 3rd time for the Color Obstacle Rush UK (in 2017).

The first Color Obstacle Rush was held in Finland in 2014 named 'Variestejuoksu'. This soon became the most popular obstacle run series in Scandinavia.

It was expanded to the US and Europe in 2015 with even more countries to come this year.

The colour powder used is dyed corn starch (so we won't end up looking perminently like colourful smurfs!)

The powder product has been tested in UK by SGS and states that all ingredients are permitted according The EU Cosmetic Regulation 1223 / 2009, so completeley safe for our skin and hair (and after a few washes we will be safe to return to the office on Monday morning, without anyone thinking we have had a weekend bust up in a DIY store!)